Duct Heater Elements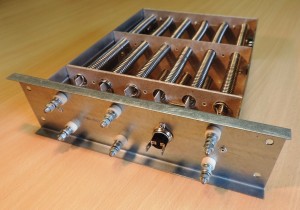 Used in a multitude of different ways, duct heater elements are used in forced air heating applications to heat the air before it reaches its destination. They may be used in a duct furnace or directly in the duct itself.
Our elements use open coil box-shaped construction, designed to be inserted into an aperture in the heating duct. Unlike tubular designs, open coil elements can react quickly to changes in heat demand and can be up to operating temperature in a matter of seconds, not minutes.
Ratings up to 10KW as standard
110V & 230V single phase as standard.
400V & 480V 3 phase as standard.
Thermal cut-out fitted for safety.
Connection via M5 threaded studs.
Applications:
Industrial Duct Heating
Commercial Duct Heating
Office Heating
Please contact us to discuss your requirements.