Eco-Quartz Energy Saving Infrared Heater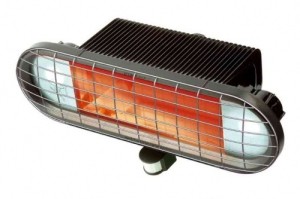 The Eco-Quartz 'Energy Saver' infrared heater has motion detection using an integral PIR unit. This only activates the quartz halogen infrared tube when people are present. This provides an economical, and highly cost-effective solution, to heating and lighting outside areas, with 9 square metre area of coverage.
Further energy savings are achieved by a photocell control for the lights, turning them on only in low light conditions. A temperature sensing device, which measures the ambient temperature, ensures that the unit operates only when outside temperatures are low, again minimizing wastage.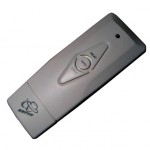 The 'Energy Saver' comes complete with a handheld remote which can independently control the Eco Quartz Infrared Heater and lights on/off at an effective distance of over 20 metres.
The Eco-Quartz range of infrared heaters has been designed specifically to meet the needs of establishments or organizations looking for a cost-effective solution for outdoor heating.
At its heart, the Eco-Quartz Infrared Heater range utilizes a 1.3KW quartz halogen tube specifically designed to provide a warming glow eliminating the glare experienced with many other proprietary products. Spare parts are also available from us.
Benefits at a glance: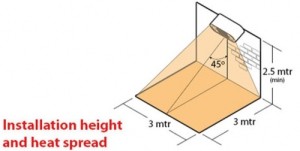 Instant heat no blasts of air or dust
Effective, targeted instant heating using quartz infra-red technology
Cost-effective heating with low running costs
Fully automatic, will not switch on unless movement is detected,
Switches off 4½ minutes after the last movement detected
Automatic low heat when ambient temperature 15-20°C
Will not switch on in automatic mode when ambient temperature greater than 20°C
Manual option via remote control giving you total control of heater & lights
Tube life over 3000 hours
Emission free, noiseless and odourless
IP 54 rated weatherproof cast Aluminium case
Ceramic glass window
CE Approved
Frequently Asked Questions
What is infrared quartz heating?
Infrared quartz heater uses short wavelength light, which penetrates the air easier. The infrared generates heat by heating the solid objects that it meets with, without heating the air around making it more efficient, so will not be affected by drafts or breezes.
What do I need to install a Quartz heater unit?
Installation could not be simpler; a standard 13 amp socket (waterproof if outside) is all that is needed. The heater is mounted with the bracket provided to a convenient wall surface, at least 2.3 metres high.
Is quartz heating safe?
Yes, our quartz infrared elements emit short wave light, so are completely safe with no tanning effects. These cannot be compared with the longer wavelengths of light such as UV, microwave or with X-rays.
Can I leave it out in the rain?
Yes, the heater is IP54 rated which means it is protected against falling drops of water and splashes. The glass front is made from ceramic glass, the same as that used in cooker doors. You do have to ensure that the 13A plug is either connected indoors or protected by a waterproof socket.